Alabaster's Artist in Volterra • Pisa
Image of the Month • May 2010
Alabaster's Artist in Volterra
The Alabaster, a beautiful stone extracted from open air quarries near Volterra, is cleverly worked in many workshops and has made the city a Volterra in the province of Pisa famous throughout the World.
The Alabaster of Volterra composed of calcium sulphate is softer and easy to work than limestone and today is more diffused thanks to the ability of the craftsmen and masters of Volterra.
In this 360° panoramic image we admire the craftsman and artist Franco Norscia in the Laborario Rossi Alabastri grappling with the creation of an alabaster egg.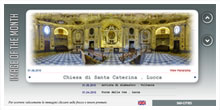 IMAGE OF THE MONTH (HOME)
VIRTUAL TOUR