Massa Marittima Cathedral • Grosseto
Image of the Month • September 2010
Cathedral of Saint Cerbonius • Massa Marittima (GR)
Massa Marittima is a little town rich in art and historical sights located in the Maremma Countryside; the conservation of the town was facilitated by the economic decline due to malaria that infested the area until the remediation of the first half of 1900.
The peculiarity of this town lies in the fact that is clearly divided into two parts: the lower one, Romanesque, clustered around the Cathedral, and the new one, beyond the Fortezza Senese, in which is easy to find some striking and distinctive spots and some panoramic views overlooking the tuscan countryside.
The irregular Piazza Garibaldi is the heart of the old city: the Cathedral, located at the top of a large staircase and placed diagonally across the square, is a Romanesque building (first half of the '200) later expanded with the construction of the polygonal apse and presbytery.
Inside there are works of great value as a Baptismal Font made of a single block of travertine stone. In the high altar there is a polychrome wooden crucifix attributed to Giovanni Pisano.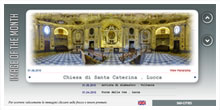 IMAGE OF THE MONTH (HOME)
VIRTUAL TOUR