Mount Corchia • Stazzema (LU)
Image of the Month • August 2008
Mount Corchia - Apuan Alps
The Apuan Alps are famous all over the world for their fine high quality marble. The white Carrara Marble has been extracted from open quarries in the side of the mountains for many centuries, since Roman times and was used by Michelangelo to sculpt his masterpieces.
The Alps are a naturalistic jewel protected by a regional natural park. The Mt. Corchia is situated in the southern part of Alpi Apuane, is a carbonate massif with several caves like the famous Antro del Corchia.
The Apuane are very close to the coast so their silhouette dominates the scenery from Viareggio beach and sea. The Versilia is surely a particolar area, where mountains of this great altitude are so close to the sea.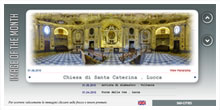 IMAGE OF THE MONTH (HOME)
VIRTUAL TOUR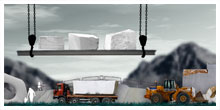 Marble Quarry Virtual Tour
(Mount Corchia)