Viareggio from the Pier
Image of the Month • July 2009
Viareggio from the Pier
The oldest building in Viareggio is the Torre Matilde a defensive fortification built in 1541 to contrast the invasion of pirates. Viareggio is known internationally for several reasons: from the Carnival to the "Passeggiata", from Seaside Resorts to the Shipyards.
Over time Viareggio is identified as the capital of Versilia although the Historical Versilia included the towns of Forte dei Marmi, Pietrasanta, Seravezza and Stazzema.
Today the boundaries of the Versilia are identified by the river Cinquale in the north, by the town of Vecchiano in the south and by the Apuan Alps in the east.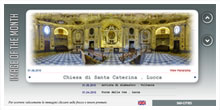 IMAGE OF THE MONTH (HOME)
VIRTUAL TOUR