Lodi 360°: City Tour
Lodi has Roman origins and its name Laus Pompeia is attributed to the Roman consul Gneo Pompeo Strabone that in 89 BC conceded the Latin Right to the Gallia Transpadana. Its position on the way to Milan was strategic and for this reason the city became a very important commercial and agricultural village. In 1111 it was destroyed by Milan and in 1158 it was reconstructed by Frederick Barbarossa not on the ruins of the Roman city, now old Lodi, but along the river Adda to have more control over the territory.
In the fourteenth century, Lodi formed an alliance to the Duchy of Milan under the Visconti, who built the "Castello di Porta Regale" (1370), and under the Sforza, that solidified the defence system building two forts. During the Renaissance Lodi lived important events such as the Peace of Lodi, which guaranteed 40 years of political stability.
Later Lodi was dominated by the Spanish, the Austrians and the French who put an end to Austrian domination in 1796 when Napoleon defeated them in the famous Battle of the Ponte di Lodi, decisive victory for the conquest of Milan.
Since the nineteenth century Lodi, still enclosed in medieval walls, begins to develop outside the Walls due to the inauguration of the railway line Milan-Piacenza and the birth of the first industries such as the "Lanificio Varesi-Lombardo" in 1868 and the Polenghi Lombardo in 1870 the area for the headquarters of the Banca Popolare di Lodi by Renzo Piano.
360° VR Panoramic Images of Lodi
LODI 360° … CITY TOUR
Victory Square with the Cathedral of Lodi
Victory Square is the heart of the City of Lodi. The square is characterized by the presence of the Cathedral "della Vergine Assunta", the Town Hall (Broletto) and the porticoes on all its four sides. The plan of the square, unchanged over time, has a rhomboid shape with sides of about 74 meters. The facade of the Basilica in brickwork is asymmetrical and is in a typical Romanesque style.
Church of San Francesco in Piazza Ospedale
The Church is in the Hospital's Square but is commonly known as the Piazza San Francesco a place mentioned in many works of the poet Ada Negri. The brickwork facade of the Church is unfinished and is characterized by a tall ogival cusped portico and a rose window in white marble. The interior has a cross-vaulted central nave and two aisles.
••• VIRTUAL BROCHURE •••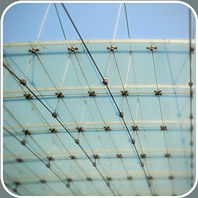 360° VR Panoramic Virtual Brochure
••• VIRTUAL TOUR SECTIONS •••
••• GOOGLE MAPS •••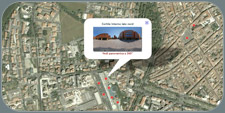 360° VR Panoramas of the Lombard City
••• HIGHLIGHTS •••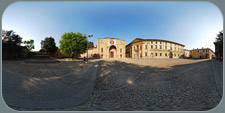 Lodi VR Images • Lombardy
••• LITTLE PLANET •••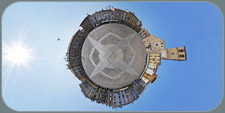 Victory Square with the Cathedral
Lodi VR Images • Lombardy