Mount Corchia - Apuan Alps Virtual Tour
Mount Corchia (1677 meters a.s.l.) is located in the southern part of the Apuan Alps in the municipality of Stazzema. The complex formed by it is the largest karsts system known in Italy and it is characterized by numerous caves like the "Tana dei Gracchi", the "Buca del Cane" and the famous "Antro del Corchia". The panorama from the top of these mountains, on a clear day, is wonderful: we can admire the Tyrrhenian coast with the isles of the Tuscan archipelago (Elba, Gorgona, Capraia) and the Corsica, the Ligurian coast and the Maritime Alps in the distance, the other peaks of the Apuan Alps like Mount Cimone, Tambura, Pania della Croce ...
In this virtual journey we go from Passo Croce (1150 a.s.l.) to the Tavolini Quarries (A and B) active since 1972 from which is extracted the marble "arabescato del Corchia" used for example in the Monument of the Unknown Soldier in Baghdad designed by the Architect Marcello d'Olivo.
MOUNT CORCHIA 360° - INTERACTIVE PANORAMAS








••• VIRTUAL BROCHURE •••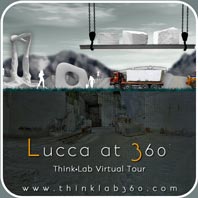 Mount Corchia - Apuan Alps - Stazzema
360° VR Panoramic Virtual Brochure
••• 360° FLASH VR PANORAMAS •••
••• GOOGLE MAPS •••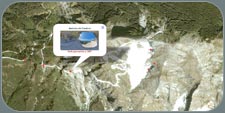 360° VR Panoramas of the Apuan Alps
••• HIGHLIGHTS •••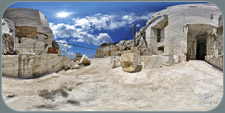 Mount Corchia • Apuan Alps • Stazzema
••• LITTLE PLANET •••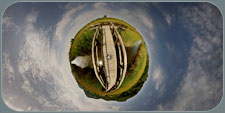 Massaciuccoli's Lake • Massarosa • Tuscany
••• 360 CITIES TOUR •••
360° VR Panoramas of the Ducal City
360° VR Panoramas of the Tuscan Province