Duomo Square by Night Virtual Tour
Duomo Square in Parma is a medieval architectural masterpiece that includes the Cathedral, the Baptistery and the Episcopal Palace. The square is cut off from the traffic and is accessible only by small and quiet narrow roads that contribute to the atmosphere of reflection typical of a religious centre.
The protagonist of the square is the Baptistery, in pink Verona marble, which occupies the south side of the square with its massive octagonal size. It is considered the the transition between the Romanesque and Gothic Architecture.
Parma 360°: VR Panoramas of the Duomo Square by Night
PARMA 360° … DUOMO SQUARE by NIGHT

The construction of the Cathedral of Parma began in the eleventh century under the Pope Honorius II. It was completed between 1130 and 1178. It is one of the most important examples of Romanesque architecture in Italy. In front of the Cathedral stands the Bishop's Palace built in the 11th century and rebuilt several times. The inner courtyard was added in the 16th century while the facade dates back to the beginning of the 20th century.

In the facade there are three orders of loggias and a tall gothic brick tower flanks it. In the dome there is a beautiful fresco of Correggio's famous depiction of the Virgin's Assumption. The Baptistery stands adjacent to the Cathedral.

The Baptistery is made of pink Verona marble. Designed by the great architect and sculptor Benedetto Antelami it is considered as the transition between the Romanesque and Gothic style. Outside this octagonal building there are three splayed portals designed by Benedetto Antelami (north and west ones) while the east portal, the least decorated, was probably finished by his students. In the centre of the baptistery stands the large baptismal font for immersion dating back to the end of the XIII century.
••• VIRTUAL BROCHURE •••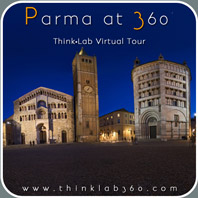 360° VR Panoramic Virtual Brochure
••• VIRTUAL TOUR SECTIONS •••
••• GOOGLE MAPS •••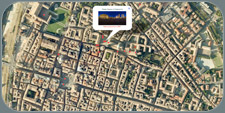 360° VR Panoramas of the Ducal City
••• LITTLE PLANET •••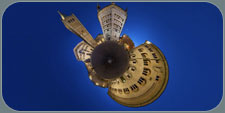 Parma • Emilia Romagna • Italy