Duomo Square by Day Virtual Tour
Duomo Square in Parma is characterized by the Cathedral, the Baptistery and the Bishop's Palace. The construction of the Cathedral began in the eleventh century, under Pope Honorius II, and the building was completed between 1130 and 1178. The beautiful facade has three order of loggias and three portals with the doors sculpted by Luchino Bianchino in 1494; two stone lions stand besides the main door of the Cathedral guarding it. The Dome of the Cathedral has a beautiful fresco of Correggio depicting the Virgin's Assumption.
The Baptistery is considered the transition between the Romanesque and Gothic style. It was designed by Benedetto Antelami with an octagonal plan and a facade of pink Verona marble. The access to the building is provided by three splayed portals.
Parma 360°: Panoramiche diurne di Piazza Duomo
DUOMO SQUARE by DAY



••• VIRTUAL BROCHURE •••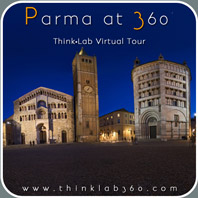 360° VR Panoramic Virtual Brochure
••• VIRTUAL TOUR SECTIONS •••
••• GOOGLE MAPS •••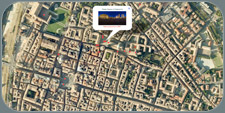 360° VR Panoramas of the Ducal City
••• HIGHLIGHTS •••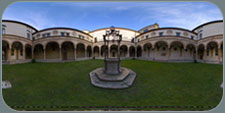 St. John the Evangelist Cloister
Parma • Emilia Romagna • Italy
••• LITTLE PLANET •••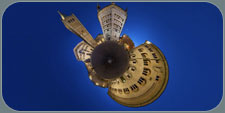 Parma • Emilia Romagna • Italy